Monaco Entertainment Center
Monaco Entertainment Center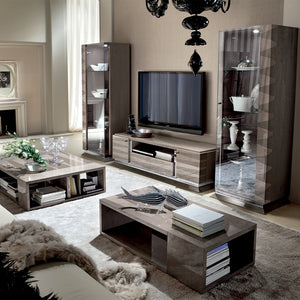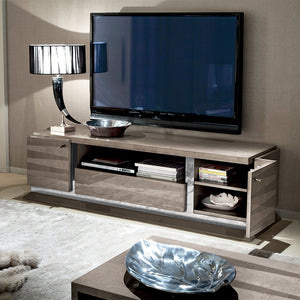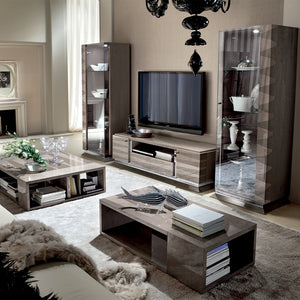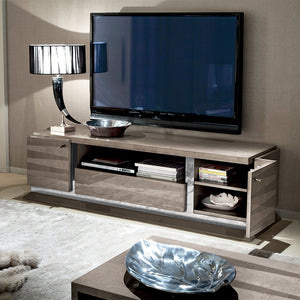 Monaco is a top quality and stunning looking Italian living room furniture collection made with functionality in mind and great attention to details. The unique design of the "velvet birch" veneer inlay under the High Gloss lacquer together with chrome accent details define the style of the MONACO collection that definitely impresses. Entertainment center consists of the separate units that add flexibility and functionality.
TV Stand features two door-compartments on sides, drawer in the center and an open compartment for your electronic devices.
Curios have internal glass shelves and built-in LED light. 
GENERAL CARE TIPS
• Try to place your furniture away from direct light. It will help your furniture stop fading and damaging.
• When it comes to your furniture, do not use household chemicals.
• If your furniture has detachable cushions, get into the manner of turning them often. It helps to distribute wear evenly.
CLEANING LEATHER FURNITURE
• Once a week, take a clean, moist cloth and use it to wipe away notable stains. Use a brush vacuum-attachment to clear up debris and crumbs from tufts, seams, and corners.
• Try to give your leather furniture a regular wipe-down with a leather conditioner for hydration and shine.
• For spills, cover the spill with a soft, dry cloth to soak up excess moisture. Do not rub the stain!
CLEANING FABRIC FURNITURE
• Before vacuuming your fabric furniture, make sure your vacuum head is wiped clean.
• The moment you see a spill, grab a clean absorbent cloth. Do not scrub. Place a cloth over the spill, and let it absorb the spill.
CLEANING VELVET FURNITURE
• Regularly vacuum your velvet furniture. Vacuuming keeps velvet looking tidy and helps the fibers stand up.
• The moment you see a spill in your velvet furniture, get a clean damp cloth and mop up the spill. Avoid scrubbing.
CLEANING SOLID WOODS
• Use a soft cloth that's slightly damp to wipe away any dust or dirt.
• If there's a sticky spot, get two cloths. Dip one in a bubbly bath of dish soap and warm water and wring excess water out, then wipe the spot. Then wipe the entire area again with the other dry cloth.
CLEANING TEAK
• Keep your teak furniture away from windows and heaters and treat it with teak oil to restore moisture.
• To clean your teak furniture, simply wipe it down with a damp cloth, and a soap and water mixture. Never use a power washer.
CLEANING VENEERED WOOD
• Veneered pieces cannot be sanded. Make sure you use a coaster to ensure its longevity. Avoid wetness and hot dishes and attend to stains and marks quickly with warm soapy water.
CLEANING MARBLE
• For marble furniture, avoid spills.
• If you spill something, grab yourself a soft cloth.
• Marble is sensitive to acid lemon, vinegar, household cleaners as well.